Bill's Pinochle game
Log In
Hosts: First log in as Host to set House Rules (game options) and to start new game. Then give players the information they will need to log in. You will then also need to log in as a Player to join the game. Host logins are only used to "set the table up" for play.
Players: Wait until Host tells you game is ready. You will need Host ID, Player ID, and Player Pin to join the game.
How Game Is Played: CLICK HERE to view Game instructions.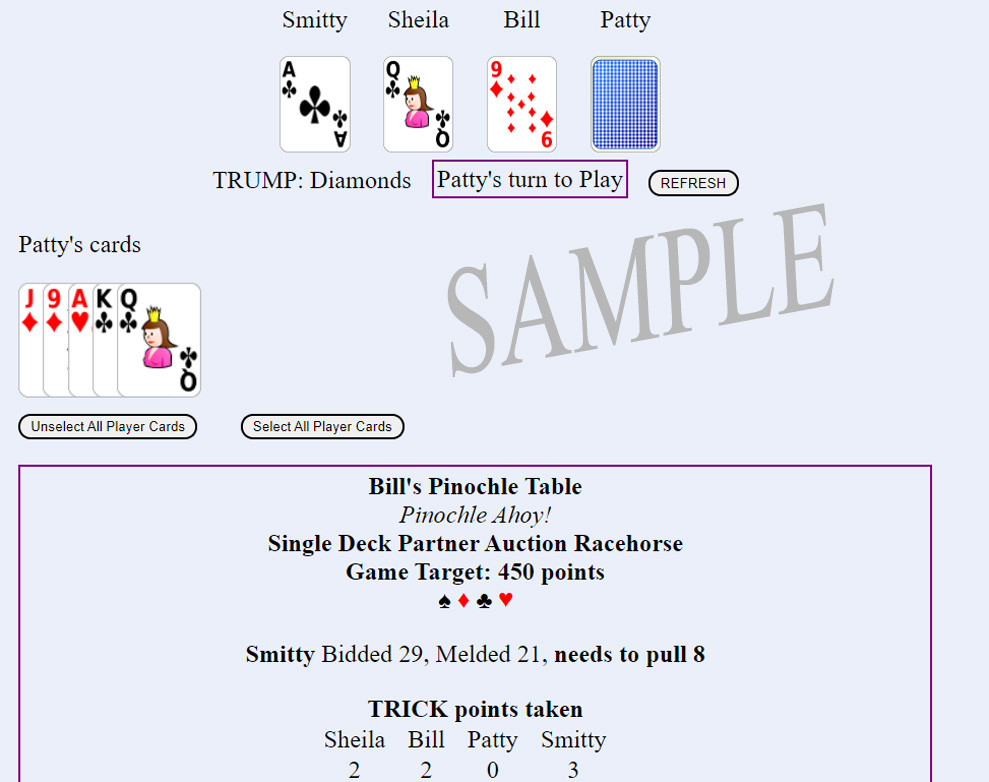 Bill's Pinochle game
Fun card game played online by 2, 3, 4, 5, or 6 people. Depending on the number of players, host can choose to play cut throat (5,6, or 7 cards), or normal single or double deck pinochle. Play partners or compete as individuals. Choose whether or not team winning the bid can pass cards or not. Choose whether or not to use a Kitty for individual player games. Choose whether or not players must follow suit, whether or not players must play Trump if unable to follow suit, and whether or not players must win trick if possible. Players can choose which cards to meld, or they can let the game auto-meld for them. Other options are available as well. No need to shuffle, deal, or keep score - the game does it for you.
Guests always play FREE. Table hosts pay $48 for a full year to host a table. Hosting fee includes access to other games as well. Visit https://northwestpages.com/Pinochle.html for details.